source:
Guardian.co.uk
by: David Adam
Scientists have been forced to withdraw a study on projected sea level rise due to global warming after finding mistakes that undermined the findings.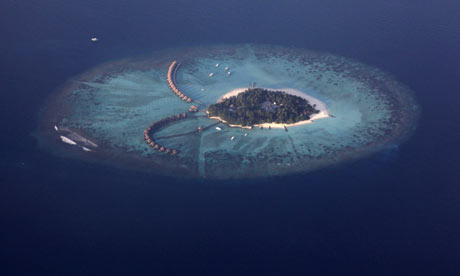 Many scientists criticised the IPCC approach as too conservative, and several papers since have suggested that sea level could rise more. Martin Vermeer of the Helsinki University of Technology, Finland and Stefan Rahmstorf of the Potsdam Institute for Climate Impact Research in Germany published a study in December that projected a rise of 0.75m to 1.9m by 2100.
Siddall said that he did not know whether the retracted paper's estimate of sea level rise was an overestimate or an underestimate.
Announcing the formal retraction of the paper from the journal, Siddall said: "It's one of those things that happens. People make mistakes and mistakes happen in science." He said there were two separate technical mistakes in the paper, which were pointed out by other scientists after it was published. A formal retraction was required, rather than a correction, because the errors undermined the study's conclusion.
"Retraction is a regular part of the publication process," he said. "Science is a complicated game and there are set procedures in place that act as checks and balances."
Nature Publishing Group, which publishes Nature Geoscience, said this was the first paper retracted from the journal since it was launched in 2007.
The paper – entitled "Constraints on future sea-level rise from past sea-level change" – used fossil coral data and temperature records derived from ice-core measurements to reconstruct how sea level has fluctuated with temperature since the peak of the last ice age, and to project how it would rise with warming over the next few decades.
In a statement the authors of the paper said: "Since publication of our paper we have become aware of two mistakes which impact the detailed estimation of future sea level rise. This means that we can no longer draw firm conclusions regarding 21st century sea level rise from this study without further work.
"One mistake was a miscalculation; the other was not to allow fully for temperature change over the past 2,000 years. Because of these issues we have retracted the paper and will now invest in the further work needed to correct these mistakes."
In the Nature Geoscience retraction, in which Siddall and his colleagues explain their errors, Vermeer and Rahmstorf are thanked for "bringing these issues to our attention".